"Prone to wander, Lord I feel it, prone to leave the God I love. Here's my heart, O, take and seal it, seal it for thy courts above." -Robert Robinson, author of Come Thou Fount of Every Blessing
Worship music, at least on what you would call the "contemporary" side of the aisle, has been going through a slow shift over the past years. (At least, as I see it and have experienced it. I can only speak to what I've observed.) I remember growing up in the 90's, learning how to play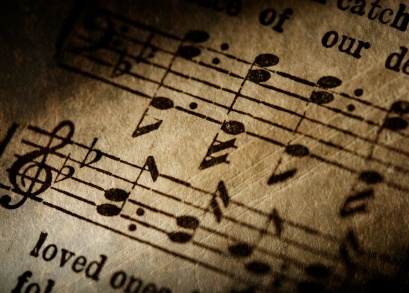 guitar and sing and lead worship, the church I was at would use hymns very sparingly. Our church had just transitioned from traditional to a more contemporary style, and I think the move away from hymns was a little bit of a pushback against a style that relied almost ENTIRELY on hymns.
In 2004, I started at Liberty University. There were two different types of services we would lead worship at: church and convocation. At convocation, which happened three times a week, I got the sense that we were doing hymns more to meet people in the middle. We had this big worship band who normally played Tomlin or Hillsong or whoever, and we would play an old school version of "
There is Power in the Blood
" for convocation. Sometimes at campus church we would work in hymns in a way that felt more like "us" and it was really moving.
Now, over the past handful of years, I see churches and worship bands from all over finding ways to use hymns in worship, and in ways that feel wholly authentic and real and... on purpose. Why are hymns on the rise again?
I have a theory.
I think that we, the church, have felt a longing toward something more lasting than the latest worship song that everyone is singing. Some of these songs are INCREDIBLE, and most of them will feel old and a little goofy in ten years. (I'm looking at you,
Open the Eyes of My Heart
.)
The song
Come Thou Fount of Every Blessing
was written in 1757 and we are singing it together this weekend. When I sing that song, and many other hymns, I get a sense of where we the church have been. I get a sense of richness from the words we are singing, words that teach us more about the character and nature of God.
Even some of the modern hymns we do capture this sense of richness.
In Christ Alone
was written in 2001 and it's one of the most powerful songs we sing.
Are some new songs fantastic and full of richness and theology and all that good stuff? Of course. I am not in any way trying to undercut what's happening in modern worship music. Most of what we do on Sunday morning comes from that vein.
It's a balance. Everything feels more full to me with modern stuff, old stuff done in old ways, old stuff done in modern ways... I am thankful for the music that the church has been gifted with in the past few years, and in the past centuries.